OptikamPad
Our opticians always strive to provide the highest level of customer service. Even so, the devices they use to measure frame, lens, and patient parameters as well as those they utilize for demonstrations and patient education often hinder their effectiveness. The new OptikamPad app not only enhances an optician's abilities, it extends them.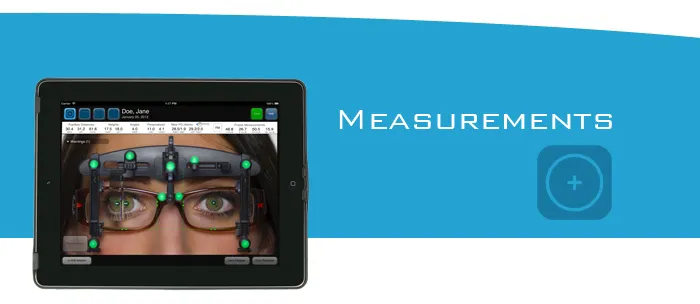 Measurements
With the NEW OptikamPad app our opticians can take all the measurements needed for free-form lenses in less than 1 minute.
From ONE picture, we can obtain the following measurements:
•Monocular Pupillary Distance (PD)
•Multifocal Seg Heights
•Pantiscopic Tilt (panto)
•Vertex Distance (RVD)
•Wrap (face form tilt)
•Near PD
•A, B, ED and DBL values
Click here to learn more about the Optikam patented EY-Stick technology.
EY-Stick Technology
The EY-Stick is an ingenious device, our opticians simply hook it onto the patient's pre-adjusted frame.
Precise Measurements
The era of digital centration allows eyewear measurements to increase our optician's measuring exactness in a number of ways. These "as-worn" measurements take monocular PDs more accurately by taking into account how the frame sits on the customer's face. This is in contrast with the pupilometer, which captures PDs anatomically and does not take into account frame fit and nose-pad adjustments.
Optikam's EY-Stick also improves seg. height measurement precision through its unique way of capturing the patient's natural posture. By means of a swing assembly on the EY-Stick, the optician can very quickly capture the patient's natural head posture without being at the same eye level as the patient. This enables an optician of any height to properly and accurately measure patients of varying heights. OptikamPad also makes taking personalized measurements practical in a retail setting. Some measurements like vertex distance are extremely challenging to measure. The EY-Stick's prism lets you do this easily regardless of the temple style of the eyewear. Quickly obtaining precise rear-vertex, frame wrap and pantoscopic tilt measurements allows patients to get the full potential out of the latest lens designs.
One-Photo Benefits
The benefit of taking all these measurements with one photo is huge. Too often, either the patient or the optician moves during the measuring process. Whenever that happens, accurate alignment is broken. Taking all these measurements at once ensures consistent and correct alignment, which really improves accuracy. Using one image to capture all of the measurements ensures a speedy process, resulting in a customer experience that will impress.
Lens Verification
Once the measurements are taken, the optician can select a progressive addition lens (PAL) design and the software prompts whether the lens provides sufficient reading area. If not, our optician can make another choice.
With the simplicity of one photo, our opticians can capture a multitude of precise measurements with OptikamPad Software and say goodbye to your PD ruler!
Frame Selection
Is a mirror enough? Instead of taking pictures of your new frames with your smart phones, we can use the OptikamPad app to show you that you look your best before you order your new eyewear.
If your looking for an instant second opinion from your loved ones, OptikamPad's emailing capabilities definitely have you covered. What a great way to reduce the number of visits required to purchase a frame!
Lens Demos
Why is a certain lens option more expensive than another?
If they don't ask it out loud, most probably they're thinking about it. The lens demo module shows you how thick your lenses will be; how your lenses will look with and without an anti-reflective (AR) treatment; and how bifocals, traditional progressives, premium progressives, and personalized progressives function and compare. It also illustrates and compares photochromatic, polarized, sun, and fashion tinted lenses.
You will clearly see the advantages of premium lens options!
Augmented Reality
The augmented reality module simulates real-life situations such as office and outdoor scenes, which showcase the lens style and treatment options chosen compared to a lens without them. The live video mode does the same thing, but instead of using photo comparisons, it utilizes the iPad's video camera to demonstrate the options chose with a live view inside and/or outside the office.