Learn More About Family Vision Centers
Our History
Making Quality Affordable
Family Vision Center is one of the oldest and largest family eye care practices in Connecticut. The first Family Vision Center office opened in Bridgeport, Connecticut in 1964 by Dr. Michael Gorman. The success of the first Family Vision Center office led to the opening of another location in 1985 in Stratford, Connecticut.
Family Vision Centers full time Optometrists have over 50 years of experience. The doctors at Family Vision Centers specialize in a wide variety of services including ocular pathology and diseases of the eye. For over 30 years, the owner of Family Vision Centers, Dr. Gorman has also served as the President of Connecticut Visual Health Center.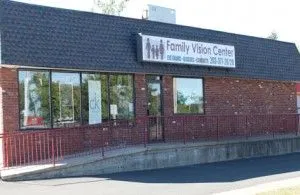 The staff at Family Vision Centers is experienced in the eye care industry and is happy to help patients with any and all eye care needs. The Bridgeport, location has bilingual staff for Spanish speaking patients.
Both Family Vision Centers have fully equipped exam rooms. We utilize technology such as Autorefractors, Autokeratometers, Auto Non-Contact Tonometers, Corneal Topographers and Pachometers. This advanced technology allows us to perform comprehensive eye examinations, treat many eye diseases and provide numerous eye care services.
We offer a wide array of brand name eyeglass frames. Having the only private optometric practice in the state of Connecticut with a full service laboratory on premises allows Family Vision Center to make eyeglasses quickly and efficiently.
Patients coming to Family Vision Center for contact lens fittings usually are able to leave that day with a trial pair. Patients can also purchase contact lenses at either location or through our online store.
Seniors over 60 years old who become patients at Family Vision Center always receive a 10% discount on Family Vision Center services and products. For patients who prefer inexpensive eyeglass frames, we offer a wide variety of styles in our budget collection. We also have a 10% discount on annual supplies of contact lenses.